September 2014
September 26-27th
O2X Summit Challenge – Sunday River, ME. Two courses of varying physical challenge and elevation gain will take athletes up some of Sunday River's most rugged and rewarding terrain, and are designed to push both strength and spirit. Along the way, runners will navigate natural obstacles before finishing their respective courses at a mountain summit, complete with great views.
For registration information, see the event website.
September 27th
Eagle Rock Trail Grand Opening. Greenville, ME. 10am-3pm. Enjoy a guided hike up the western flank of Big Moose Mt. Free. For more information, visit here.
September 28th
The Color Run aka the happiest 5k on the planet, through downtown Bangor. 8am. For registration information, see the event website.
October
October 11th
Join NRCM for a hike up Barnard Mountain in the proposed National Park lands @ 1030am. For more information or to register, visit Hike The Park!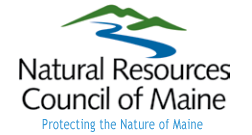 October 14th
Event Submission
Have an event you'd like us to add to our calendar? Use the form below to fill us in and we'll help get the word out.
We reserve the right to choose what events to list. Use of this submission form does not guarantee appearance on our calendar. We also reserve the right to edit your submission for content and clarity.